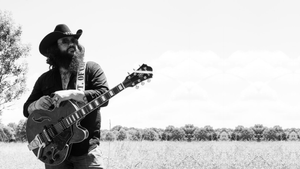 VETERAN / FATHER / MUSICIAN
200+ shows per year | 5k followers (and counting) | Debut EP COMING SOON!
"You can't See the Scars I'm Hiding "
— Gun From My Hands
I'm just a small town Father, Veteran and Gypsy brought up on gospel and country music. I was born in the small town of Minden in Louisiana and lived in Cotton Valley, raised on good manners, good food and good music, my family sang gospel all over the place and I always dreamed of being up on stage. Now I can't say its all gospel cause Honky Tonks and Neon run through my veins I've always felt the draw of the stage there listening to the crowd and the clinking of the glasses! 
I took some detours on my way to my music dreams and pursued another passion of mine as a chef, I attended culinary school and worked in the food industry which I love. My grandmother and mom taught me to cook growing up and I love making good food for people. I try and combine this passion with my music these days with my own BBQ Sauce Renegade BBQ.  I lost a bakery during hurricane Katrina while I was in Mississippi which led me to the Military. I spent 8 years with the Air Force and 5 deployments overseas, I truly loved my time and the brothers and sisters I met there. I get asked all the time whether it was bad overseas and of course there were horrible times but I believe in finding the joy and beauty in all situations. One of the most beautiful places I've ever been was a snowed in valley in Kabul Afghanistan. One of my biggest passions comes from that time in the military, I suffer with PTSD and I pour that into my music one of my first songs I released "Gun From My Hands" is all about it and the scars you can't see. I hope I can bring more awareness to PTSD and help my brothers and sisters who suffer like me. 
Music has always had my heart, the only thing that has more of it are my daughters Elli Mae and Calli Grace. I could never shake off the nagging feeling I wasn't doing what I needed to be doing when I wasn't pursuing my music, So I packed up sold everything and came down to Nashville to chase my dreams. My Gypsy soul loved selling everything and packing up a $750 pickup truck that wouldn't reverse and moving to a town where I knew no one! I've always been able to as my friends say make friends with a rock so when I got here I wasted no time. Found a job at family owned restaurant called Courtney's to keep a roof over my head as well fellow Brother in Arms Glen Hanks to live with.  I'm always blown away by the amount of talent in Nashville and I've met some great songwriters who helped me find my way, Bill Wolfenbarger has been a constant sounding board and I even had the chance to shake the hand of Whispering Bill Anderson. One of my biggest goals has been to find my sound to put the music in my head out in the world, my influences are Lynyrd Skynyrd, Johnny Cash, Hank Jr, Waylon Jennings and so many more. Thanks to some great musicans and cowriters (which you can find on my Music Family Page) I've started to find that sound and I'm beyond thankful to them for that. 
I get asked all the time what my goals in pursuing music are, am I hear to be famous? Honestly I'm here to pour out the music from my soul and hope it connects with the people who need it. Some folks call my music Country, some Outlaw Country and some Southern Rock I call it real and that's the kinda music I wanna make!
GENRE: Southern Rock/ Country/ Blues
MUSICAL INFLUENCES: Johnny Cash, Lynyrd Skynyrd, Hank Jr, Muddy Waters
FOR FANS OF: Hank Jr, Chris Stapelton, Whiskey Myers, Travis Tritt, Stevie Ray Vaughn